Watch Video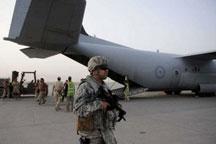 Play Video
Insurgents wearing suicide vests have tried to storm NATO's largest base in southern Afghanistan. But the rebels were unable to breach its defenses.
Gordon Moulds, Kandahar Airfield Commander, said, "At 11:18 today there was a failed ground attack against Kandahar Airfield. It was initiated with two rocket attacks, and then was followed up with five suicide bombs. Nobody got onto Kandahar Airfield and we are now clearing up after the attack."
Two rockets were fired into the base on Tuesday, then a handful of would-be suicide bombers assaulted the outer gates. The Taliban are claiming responsibility, saying they sent seven suicide bombers to assault the base.
The insurgent group says at least one of the bombers detonated his explosives at a base checkpoint. The Kandahar provincial government says two civilians who were outside the base were injured in the assault.
Editor:Zhang Pengfei |Source: CNTV.CN