Watch Video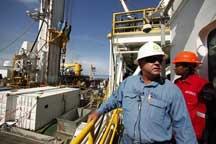 Play Video
With a second operation due to be completed later in August, BP is hoping to finally achieve success in capping the leaking well.
One hundred six days on, BP launchs its static kill operation in the Gulf of Mexico -- hoping to deliver the first of two planned killer punches to plug permanently the ruptured Gulf of Mexico oil well.
On Monday government scientists released revised figures showing nearly 5 million barrels of oil leaked before the well was temporarily capped July 15.
The static kill is the first step of a two-pronged strategy to seal the top of the well with a flow of mud and cement, and then to close off any leaks from below with a second injection, the definitive "bottom kill."
Thad Allen, Retired Coast Guard Admiral, said, "This thing won't be truly sealed until those relief wells are done."
The oil spill was unleashed April 20th when a Deepwater Horizon rig exploded in the Gulf killing 11 people.
The spill,by far the worst in U.S. history, created an environmental and economic catastrophe on the U.S. Gulf Coast, disrupting the livelihoods of fishermen and tourism operators and destroying wild life.
BP says it will pay all legitimate financial claims and clean up fouled beaches and marshes.
Related stories
Editor:Zhang Pengfei |Source: CNTV.CN