Watch Video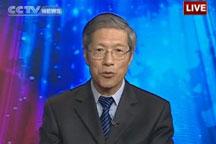 Play Video
For more insight on BP's latest attempt to plug the oil spill, we are joined again by our current affairs commentator, Professor Tao Wenzhao.
Q1: There's a lot on BP's plate: Setting up a compensation fund, restoring their public image, and cleaning up the worst environmental disaster in American history. If this "static kill" fails, what else could buy time for the company as public anger grows over the oil spill?
Q2: As we mentioned a few minutes ago, the US congressional elections are approaching. Will the Gulf of Mexico oil spill affect the outcome?
BP begins "Static kill" to plug oil spill
With a second operation due to be completed later in August, BP is hoping to finally achieve success in capping the leaking well...<Full story>
Editor:Zhang Pengfei |Source: CNTV.CN