Watch Video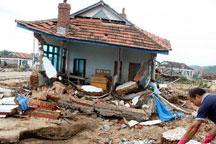 Play Video
The worst flooding in two centuries has been battering Jilin Province, causing serious disruption and hardship for local people.
And the outlook doesn't appear to be improving, with more rainfall forecast for the region. Water levels have been surging in the Second Songhua River, Tumen River and Yalu River. Flood control headquarters remain on high alert.
The Provincial Meteorological Center has issued a new heavy rain warning.
Downpours are expected to lash most parts of the province through Wednesday night to Thursday. And they're likely to trigger secondary disasters.
Fengman Dyke at the upper reaches of the Second Songhua River has seen a surge in flood discharge, while the volume of rainfall in the Tumen and Yalu River regions has reached historical highs. In fact, flood peaks have been recorded on most of Jilin's waterways.
Two dykes in Nong'an County have burst, submerging an area with a radius of 700 kilometers. There were no casualties, due to effective and timely repairs.
Meanwhile, in Baishan City, army, militia and reserve service have been mobilized for an operation to strengthen the Hunjiang Dyke.
The 10-kilometer-long dyke is the only line of defense safeguarding some 330-thousand residents. More than 100 soldiers have been working overnight to sure up the banks. Large chunks of stone tied together by wire netting, have been used to reinforce the walls against the huge currents. 800 of the rock defenses had been built up by Tuesday night.
However, in Tonghua City, there was some good news for local people on Wednesday, as new pipelines were laid and the city's water supply was switched back on. Last week, flash torrents ruptured all the pipelines in the area, cutting supply.
Editor:Zheng Limin |Source: CNTV