Watch Video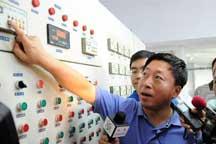 Play Video
In Jilin's Tonghua city, crews worked around-the-clock to build a temporary water pipe to get the supply network reconnected. They finally made it on Wednesday, 4 days after water was cut-off due to severe floods.
By 8 o'clock Wednesday morning, workers had finished processing water for consumption.
"The water is flowing again!"
By 2 o'clock Wednesday afternoon, communities near the plant were able to get water.
"The water is coming!"
By 4 o'clock, the majority of residents had access.
A local resident said, "I'm so excited the water is coming. I don't have to get water from somewhere else anymore."
This ends four days of frantic repair and construction work to build a temporary pipeline.
Officials say the plant's water has passed quality tests, meaning residents are safe to use it.
The temporary pipeline can provide up to 70 thousand tons of water a day for 330 thousand residents. That's still 40-thousand tons less than the regular 110-thousand tons before the incident.
The local government is calling on residents to save water and has promised to repair all the original four pipelines within two months.
While the pipeline water was cut off, they were able to live on ample supplies of underground water. Some residents' houses were connected to the underground and helped out their neighbors.
Ji Fulai, local redident of Tonghua, Jilin Province, said, "We all live in the same city. I know how it feels to live without water. It feels good that I can do something to help them through the water supply shortage."
The weather bureau says more rain is expected in Tonghua over the coming days. That will be the first challenge to the new pipeline.
Related stories
Editor:Zhang Jingya |Source: CNTV.cn