Watch Video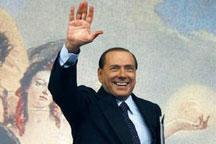 Play Video
Italian Prime Minister Silvio Berlusconi survived his first test in parliament, but only after rebel parliamentarians abstained from the vote.
The victory, leaves his conservative government, safely in place, at least until after the summer.
In a highly-anticipated vote in the lower house of parliament, Berlusconi's lawmakers defeated an opposition censure motion against a government official implicated in a corruption scandal.
The vote is parliament's last significant act until September. It was seen as a test of strength for Berlusconi.
Lawmakers loyal to Berlusconi's former ally and now political rival-- Gianfranco Fini abstained from the voting.
Gianfranco Rotondi, Government Programmes Minister, said, "I think a motion of the opposition that doesn't go through is a defeat of the opposition. I would instead speak about a political error of a group which received the votes of the majority of electors and then which votes almost on the same wavelength with the criminal opposition. This is a political judgment."
Gianfranco Fini's 33 deputies formed their own breakaway parliamentary group in the wake of the break-up, potentially depriving Berlusconi's coalition of a majority in the lower house.
Wednesday's decision to abstain kept Berlusconi afloat but also showed his grip is loosening and gave measure of Fini's clout.
Berlusconi and Fini bickered for months on a number of issues, most notably morality in politics in the wake of scandals hitting coalition members.
Fini has taken a harsher stance than Berlusconi, demanding public officials suspected of corruption resign.
Berlusconi issued reassurances his government is stable. But in recent days he also warned he will push for early elections at the first sign of trouble.
Related stories
Editor:Zhang Pengfei |Source: CNTV.CN