Watch Video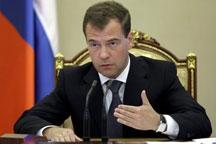 Play Video
Russia's President Dmitry Medvedev issued a stern rebuke to the head of the country's navy and sacked officers after a forest fire destroyed more than a dozen aircraft hangers, containing aviation equipment.
As for the country's Prime Minister, Vladimir Putin, he was visiting firefighters in one of the areas worst hit by the summer's wildfires. Cui Lingnan has the story.
A forest fire destroyed at least 13 hangars containing aviation equipment at a base 100 kilometers southeast of Moscow last Thursday. News of the fire was released Tuesday. The military initially denied reports of the destruction.
Russian President Dmitry Medvedev reprimanded the head of the navy and sacked several senior naval officers over the incident.
Dmitry Medvedev, Russian President, said, "What's happened means that officials didn't fulfill their duties; that there was criminal negligence when the fire which had been spreading quite slowly couldn't be localized -- and it is unclear where the commanders of the base were."
Medvedev says many other military sites across Russia are under threat from fires. He warns he could sack more senior military officers if the sites are not protected from the flames.
The death toll from Russia's most deadly wildfires in almost four decades rose to 48. The fires are blanketing Moscow in acrid smoke.
The fires swept through Russia's tinder-dry forests in the hottest summer since records began 130 years ago.
Thousands of Russians are now homeless, prompting the country's leaders to declare a state of emergency in seven of the worst hit regions.
Prime Minister Vladimir Putin visited firefighters in the southern region of Voronezh, one of the worst hit areas.
Russia has deployed 170-thousand people including troops battling the forest fires. Russia's Emergency Ministry says at least 520 fires are raging covering an area of close to 19-hundred square kilometers.