Watch Video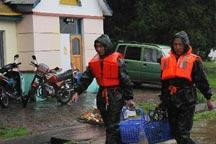 Play Video
Jilin Province in northeast China continues to endure floods, some two weeks since rainstorms began drenching the province. More than 170,000 residents in Jilin have been evacuated so far. Workers are now strengthening dykes along the Songhua River in preparation for the fresh downpours.
Floods have submerged trees and farmland, and a bridge on the road to hard-hit Yongji County and Huadian City, forcing large vehicles to make a detour.
The volume of the Fengman Reservoir in Jilin city has reached 8 and a half billion cubic meters. Authorities say as it's designed to hold a maximum of 11 billion cubic meters, so it can cope with the incoming flows.
The water level at the dam on the upper reaches of the Songhua River stands at nearly 263 meters, five meters above the danger level, submerging several nearby scenic spots.
But today's level has fallen by 11 centimeters, as a result of decreasing flow rate INTO the reservoir which is less than half that of yesterday's, while the flow OUT remains the same at 45 hundred cubic meters per second. Authorities say this will largely ease the situation.
Meanwhile, the West Stream of Songhua River is reporting dangerous water levels along its entirety. This is due to increasing water flows in its upper reaches. The peak flow passed the lower reaches in the city of Songyuan early in the morning, but caused no threat. Cities along the river are sparing no efforts to strengthen their dykes.
Weather forecasters say there will be more rain, particularly in central and southern parts of the province.
Editor:Zhang Ning |Source: CNTV