Watch Video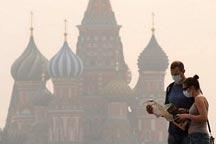 Play Video
Heavy smog is still hanging over parts of the Russian capital, blown in from wildfires in areas to the south and east that have wiped out forests and villages. In the past week, the fires have claimed the lives of at least 50 people.
On Wednesday, Moscow was engulfed by the thickest blanket of smog yet this summer.
The haze obscured the capital's landmarks and penetrated the underground railway system with acrid smoke.
Passengers on the city's subway complained about the eye-stinging haze while the City Hall warned of health risks from the smoke, which is carrying harmful gases, including carbon monoxide.
Local residents say the emergencies ministry alone cannot cope.
Civil servant Ivan said, "The Ministry for Emergency Situations alone is not able to save the country or even deal with such fires as these. So everyone is suffering because of the lack of action by the authorities and because the authorities are more worried about themselves, rather than about the country and the people."
Russia is suffering its worst heatwave on record. Temperatures for weeks have soared as high as 38 degrees Celsius.
Construction expert Sergei said, "At home, we are using our grandmothers' methods. Since we don't have air conditioning, we have to hang wet linen on the windows, use fans - it is hard, but we are coping."
The city's weather center has forecasts another hot day on Thursday, and possibly another record for weary residents.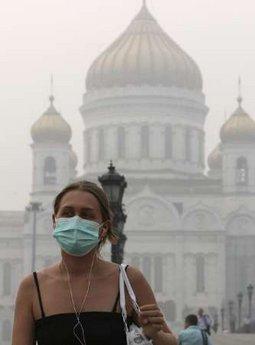 A woman wearing a protective mask walks in
front of Christ the Saviour Cathedral seen
in the background amid heavy smog in Moscow,
August 4, 2010. Airquality levels in Moscow
tumbled to an eight-year low on Wednesday
as the Russian capital was blanketed in
thick smoke from forest and peat fires, said
Moscow's state agency for monitoring air
pollution.REUTERS/Stringer
Editor:Zhang Ning |Source: CNTV