Watch Video
Play Video
South Korea has begun its largest-ever anti-submarine drills in waters off the west coast of the Korean Peninsula, despite warnings from the DPRK.
About 4,500 members of South Korea military forces and Maritime Police are taking part in the five-day exercise. Amphibious landing ships, submarines, destroyers and fighter jets have been mobilized. The drills are being held near the site where the DPRK is accused of sinking a South Korean warship in March, killing 46 sailors.
Rear Admiral Lee Seong-Joon, South Korean Navy, said, "This exercise is conducted as if it is a real war so that we can annihilate the enemy's will of provocation and strengthen our military readiness in the western sea. Our navy is armed with strong spirit and perfect military readiness, so we will immediately destroy the enemy's provocation, if there is any."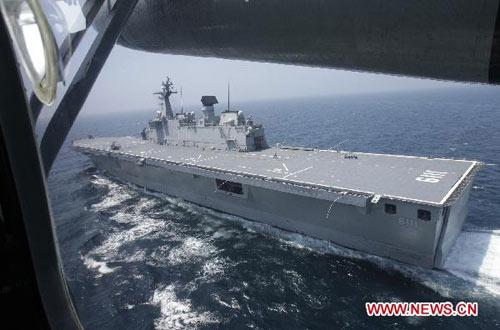 A South Korean warship attends an anti-submarine drills in waters off the west
coast of the divided Korean peninsula, Aug. 5, 2010. South Korea began on Thursday
massive anti-submarine drills in waters off the west coast of the divided Korean
peninsula despite a warning from its wartime rival against the exercises that
heightened tensions near the western sea border. (Xinhua/Pool/Song Kyeongseok)