Watch Video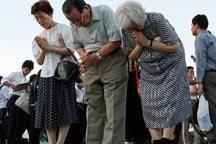 Play Video
UN Secretary General Ban Ki-moon, together with other international representatives, is attending a memorial at Hiroshima.
The memorial marks the 65th anniversary of the atomic bombing of the Japanese city during World War Two. The city hopes this year's ceremony will send a strong message of calling for a nuclear weapon free world.
Ban arrived in Hiroshima on Thursday afternoon after visiting Nagasaki, the other city to be hit by an atomic bomb by the United States during World War II. Ban Ki Moon is the first U.N. chief to attend the annual ceremony in Hiroshima.
Backgrounder:
On August 6, 1945, the United States used a massive, atomic weapon against Hiroshima, Japan. This atomic bomb, the equivalent of 20,000 tons of TNT, flattened the city, killing tens of thousands of civilians. While Japan was still trying to comprehend this devastation three days later, the United States struck again, this time, on Nagasaki.
At 2:45 in the morning of August 6, 1945, an American B-29 bomber flew north from Tinian Island in the Marianas toward Japan. Three and a half hours later, over the city of Hiroshima, the Enola Gay dropped an 8,900-pound atomic weapon from its specially modified bomb bay. Two thousand feet above the ground, the bomb, dubbed "Little Boy" by its makers, detonated, leveling almost 90% of the city.