Watch Video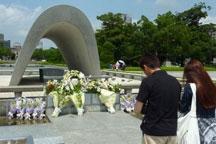 Play Video
65 years after the devastating nuclear tragedy, the Japanese City of Hiroshima has seen many visitors, including some of the world's top leaders.
For local citizens and survivors, the pain may have been overcome, but to them, the road to a nuclear-free world can't be delayed. Laurie Lew has more.
65 years after that tragic day, people are still praying in the Japanese city of Hiroshima.
Japan's Prime Minister has pinned his hopes that the event, which has attracted the world's political dignitaries, will get a higher profile.
Naoto Kan, Japan's Prime Minister, said, "I hope it will be a good chance to express the wish of the people of Japan not to see the the tragedy caused by nuclear weapons being repeated."
As Washington sent its first representative to the annual memorial, many are hoping for concrete steps ahead. Being the world's only nation to have used atomic bombs in combat, its vision and determination towards nuclear disarmament carries more weight and importance.
Barack Obama, US President, said, "We will begin the work of reducing our arsenal, to reduce our warheads and stockpiles."
The Japanese government welcomed the decision, together with the victims of the tragedy.
Hiroshi Hosokawa, Atomic Bomb Survivor, said, "For us, citizens of Hiroshima, it is a historical turning point as well, as a coveted event as this could signify the possibility that what we have been aspiring for in the last sixty something years may be realized now."
82-years-old Hiroshi Hosokawa miraculously survived that deadly day, but his 13-year-old sister was taken by the world's first atomic attack.
He has struggled for a long time to overcome the pain and hatred.
Hiroshi Hosokawa, Atomic Bomb Survivor, said, "I could not help feeling a grudge against the US for a long time. They burnt my dearest one to death. It took a long time until I began to think the eye for an eye stance does not lead to any solution."
But the scars of Hiroshima will be on the world forever. And with the new century underway, the world can't afford for history to repeat itself.
Related stories
Editor:Zhang Pengfei |Source: CNTV.CN