Watch Video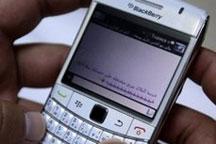 Play Video
Saudi Arabia has ordered its mobile phone operators to halt BlackBerry services throughout the kingdom this week, heightening tensions between device maker Research in Motion Limited and government's demanding greater access to data sent by the phones.
Word of the ban comes just days after neighboring United Arab Emirates announced it was planning to shut down e-mail, messaging and Web browsing on BlackBerrys from October.
India is also in talks with RIM over how information is managed on the devices.
The Saudi state news agency SPA said in a report the suspension of the service was being implemented because the BlackBerry service "in its present state does not meet regulatory requirements".
Some mobile phone shop owners were surprised.
Jaber Al-Salem, Mobile Phone Shop Owner, said, "The decision was surprising for owners of mobile phone shops, for young people and for everyone, since it came without notice."
As in the UAE, Saudi BlackBerry phones are popular both among business people and youths who see the phones' relatively secure communication features as a way to avoid attention from the authorities.
Mohammad Al-Laidan, Blackberry User, said, "The service was useful, we were communicating and nothing was bad about it,and I am calling upon them to reconsider the decision."
Analysts say RIM's expansion into fast-growing emerging markets, and the UAE's recent public showdown with the company, is threatening to set off a wave of regulatory challenges, as RIM's commitment to information security comes up against the wishes of local law enforcement bodies.
Editor:Zhang Pengfei |Source: CNTV.CN