Watch Video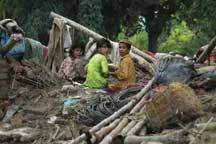 Play Video
Pakistani authorities have evacuated more than half a million people in southern Sindh province, threatened by the worst floods in 80 years.
The floods have already killed an estimated 1,500 people over the past week, mostly in the country's northwest.
As fresh rains fell on Thursday, bloated rivers gushed toward Pakistan's southern Sindh province, where hundreds of thousands of the most impoverished people live along the water.
Rescue operations have begun and authorities are evacuating half-a-million people.
Noorul Ameen, Army Official, said, "The first of our tasks is to rescue those who are trapped in flood waters by boat and get them to relief camps."
While authorities conduct evacuations, they are struggling with relief efforts. Many flood victims have complained that aid is not reaching them fast enough.
Pakistani Prime Minister, Yusuf Raza Gilani, says evacuations have been the biggest issue for the government.
Yusuf Raza Gilani, Pakistani Prime Minister, said, "The big issue was evacuating these people. We are evacuating them and, afterwards, providing them with relief. To provide them with tents, food, protection, shelter and medicines."
Gilani added that the government is starting to assess the damage with the help of the World Bank and the Asian Development Bank.
In Swat alone, the floods have destroyed more than 14,600 houses and 22 schools.
This fruit farmer says he has lost everything.
Gul Zaman, Fruit Farmer, said, "I built this house with my lifetime earnings. In front of my house I had an orchard of peaches and berries. Heavy flooding destroyed my fruit farm, which was on 50 acres of land, also ten rooms of my house have been destroyed, my property worth ten (m) million rupees. I have lost everything."
Much of the flooding is from the River Indus, which originates in the Himalayas and travels through the country.
Pakistan's monsoon season usually lasts about three months, through till mid-September.
Editor:Zhang Pengfei |Source: CNTV.CN