Watch Video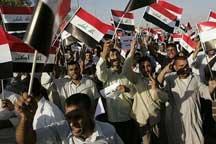 Play Video
The international community is urging Iraqi politicians to end their in-fighting and form a new government. They say the political stalemate is having a negative impact on the daily life of the country's citizens.
In a meeting of the Security Council, the United Nations urged the Iraqi politicians to speedup forming the new government. The report of the United Nations Mission for Iraq included several issues.
The government formation is what worries the international community the most. Iraqi politicians believe that the United Nations wouldn't have a stronger role in tackling the current political crisis.
The UN report did not refer to any international interference, but it pushed the Iraqi politicians to increase their effort to pass the current political dilemma.
Adnan Al-Saraj, State of Law Alliance, said, "The international worry on the delay of the government formation is similar to the worries of the Iraqi politicians, then the United Nations has no authority on forming the Iraqi government. The only point of weakness in the UNAMI report is: it did not refer to the complete obligation of Iraq toward Kuwait."
The political limbo in forming the government will affect the infrastructure and basic services to the citizens. The latest demonstrations on the power shortage had expressed the people disappointment in the politicians. Despite some citizens are pessimistic of the entire situation, others hope that the UN may tackle the current political crisis.
Iraqi Citizen, said, "We hope that the UN suggestions will work for Iraq's interest positively. Despite we reject any exterior interference, but it is ok with the UN because it is neutral. The people are fed up of the continuous twining among the politicians on the government formation."
Iraqi Citizen, said, "I don't think that the Security Council recommendation will participate in speeding up the government formation, but we hope that the politicians will present more relinquishments for the government formation. "
New predictions tell: forming the Iraqi government won't begin before the month of Sept. which will be synchronized with the American forces withdrawal from the country.
Baqi Naqid Naji, Baghdad, said, It is also expected that the withdrawal of the American forces from the country will have a negative impact on the United Nations missions in Iraq, because those forces are providing security cover to the UN missions, but that does not mean that the Security Council will not renew the authorization of the United Nations Assistance Mission for Iraq.
Editor:Zhang Pengfei |Source: CNTV.CN