Watch Video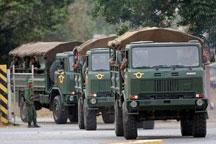 Play Video
Hugo Chavez sent air defense units and troops to Venezuela's border with Colombia last week, claiming an attack was imminent.
Tensions between the two South American nations are worrying millions of Colombians working in Venezuela seeking a better life there.
More than 3 million Colombians now live in Venezuela.
For those who came to the country to find work and escape violence, warnings of war, and a breakdown in diplomacy between the Andean neighbors, means worries about sending cash home, and concerns about the safety of their relatives.
Arcilley Murillo, Colombian Living in Venezuela, said, "I suffer, thinking here I am in this nation, and they're going to bomb my own country."
Juan Carlos Tanus, President, Association of Colombians in Venezuela, said, "If relations get to such a critical point that everything is broken, including the commitments of economic order, we're going to have many more complications, because there are 330,000 remittances sent from Venezuela to Colombia every month to resolve family problems, and family expenses."
The poor have benefited from generous social welfare programs in South America's top crude exporter.
Quotas for sending remittances at a strong, fixed rate makes Venezuela all the more appealing for impoverished foreigners.
Venezuela has promised that remittances would not be affected by its dispute with Colombia, but there are other economic problems stemming from the tensions.
Jose Veroezo, Colombian Living in Venezuela, said, "The conflict is between the governments, but while they squabble, the Colombian people are the ones most affected -- trade freezes up, plus Colombian and Venezuelan border officials start charging bribes to let you cross."
Most analysts believe war between the neighbors is very unlikely -- Colombia says it will not happen -- and in the short term, Saturday's swearing-in of new President Juan Manuel Santos is likely to calm the waters.
Related stories
Editor:Zhang Pengfei |Source: CNTV.CN