Watch Video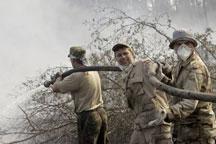 Play Video
Wildfires continue to rage out of control across Russia. At least 52 people have died, and two-thousand homes have been destroyed in blazes nationwide. The country is now in a state of emergency.
Firefighters and police units are fighting the wildfires with anything available.
Fire services pumped water from lakes in a bid to halt the spread of the blazes.
But authorities say the 10-thousand firefighters battling the infernos are not enough.
More than 500 separate blazes were burning nationwide on Friday, mainly across western Russia.
Thousands of villagers were displaced.
Local Villager, Displaced by Wildfires, said, "We sleep where we can. We don't have a proper place to stay. There's only one house left over there."
A dense smog from raging fires shrouded Moscow on Friday.
Visibility in parts of the capital was down to a few dozen meters.
Airborne pollutants were four times higher than average readings -- the worst seen to date in the Russian capital.
People donned face masks to make their journeys more bearable.
Anya Ruleva, Student, said, "The smog is so heavy, there's no way to breathe. It irritates the eyes so much, and one can not breathe over it. We wear masks, put wet cloths on windows, nothing special, but nothing helps."
The most pressing issue is that the fires could pose a nuclear threat to the country.
The government has warned that heat from blazes in the Bryansk Region, which suffered nuclear contamination during the 1986 Chernobyl disaster, could release harmful radioactive particles into the atmosphere.
The infernos are also threatening the city of Sarov, which hosts the Russian Nuclear Research Center, and is home to a centrally-located atomic reactor.
The forecast for the week ahead shows little change, with temperatures approaching 38 degrees Celsius in Moscow and surrounding regions.
Related stories
Editor:Zhang Pengfei |Source: CNTV.CN