Watch Video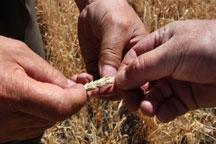 Play Video
Russia has announced that it will ban grain exports for the rest of the year. This comes after a severe drought destroyed 20 percent of the nation's wheat crop.
The move is sparking fears of food shortages and price hikes on the world market.
Russia swelters in a heat wave, and the country's worst-recorded drought. Vast areas of crops have been destroyed.
Russia, the world's third-biggest wheat exporter, has announced a temporary ban on the export of grain -- pushing wheat prices to a two-year high.
The UN's food agency has warned world supplies of wheat may shrink next year.
Abdolreza Abbassian, UN Food & Agriculture Organization, said, "The psychological impact of the restrictions yesterday and the development with regard to weather is having some major implications."
Russia's temporary export ban is causing concern about whether loaves are set to become more expensive ... Or whether we could be heading for another food crisis -- like that seen in 2008.
Gail's is a London-based chain of artisan bakeries and cafes. They largely use wheat from the UK, France, and Canada for their hand-made bread.
Gail's co-founder Ran Avidan says an increase in the wheat price could still affect smaller businesses like his.
Ran Avidan, Gail's co-founder, said, "We try to think smarter about how to operate our business, how we can reduce our cost in order to accommodate a price increase in flour. It could be that we'll have to transfer some of it to our customers."
Gail's doesn't bake bread on the scale of industrial bakers -- who are expected to suffer more from the higher cost of flour.
Bread's a staple of most western diets -- and many of us would be affected by a price hike.
But it's not all bad news. Crops from outside of Russia should still be harvested as usual.
And at the moment, it's only the wheat price -- and not that of other commodities -- which is rocketing.
Given that food inflation and rioting in many countries accompanied the last food crisis two years ago, analysts and consumers will be monitoring food prices very closely.
Related stories
Editor:Zhang Pengfei |Source: CNTV.CN