Watch Video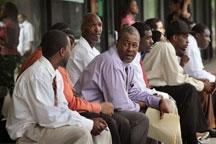 Play Video
The US Labor Department has released disappointing employment figures for July, adding to fears that the nation's economy will slow down in the second half of the year.
The labor market sputters in July, indicating the economic recovery is underway, but at a snail's pace.
Non-farm payrolls fell by 131,000, far more than expected, as temporary government census jobs fell sharply.
Private hiring more than doubled from June, though it was below forecasts, and government revisions show 100 thousand fewer jobs in that sector for May and June.
Milton Ezrati, senior economist, at Lord Abbett.
Milton Ezrati, senior economist, Lord Abbett, said, "The private sector is faced with tremendous uncertainty from the heavy legislative calendar even after, even if, that goes away after the November election, probably will, they still have to sort out the tremendous complexity of the healthcare reform and the financial reform bills, it's going to be a long time before they know what it costs them to hire somebody."
Job hunters seem to realize that, the unemployment rate was unchanged from June at 9.5% largely due to frustrated job seekers sitting it out.
In fact, job growth has backtracked since fairly strong gains between February and April. Not good news for the unemployed.
Rose-Anne, Angus, Job Hunter, said, "I'm trying to be optimistic while I look for a job."
Scott Jones, said, "It seems like most people I know are starting to find jobs who have been out of work for awhile but it doesn't seem like there's a lot of growth or opportunity yet."
There were some positive signs in July's jobs report: the average workweek edged up slightly, hourly earnings increased and some sectors continue to add jobs.
White House Economic Advisor, Christina Romer.
Christina Romer, White House Economic Adviser, said, "We added 36 thousand in manufacturing so there are parts of the economy that are growing steadily and strongly."
Though, the economy is expected to face yet more headwinds as it tries to recover from the worst downturn since the 1930s.
Editor:Zhang Pengfei |Source: CNTV.CN