Watch Video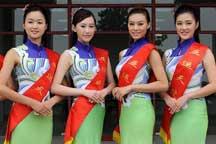 Play Video
With less than a hundred days until the 2010 Guangzhou Asian Games, athletes aren't the only ones preparing for the big event.
Ceremonial hostesses have been selected and begun intensive training. There's good news for fans too, with the launch of commemorative Asian Games stamps.
550 ceremonial hostesses were selected after passing several rounds of tests.
Their initiation began with strict military training.
Xiao Xie, Ceremonial Hostess, said, "The military training is strenuous. The instructors are strict, and we have little time to rest. But all of us are working hard to achieve the same goal -- to perform at our best during the Asian Games."
Dancing tutors have been enlisted to teach ballet and professional behavior to the hostesses. In addition to presenting medals, the girls will also march with athletes at the opening and closing ceremonies.
Meanwhile, a series of commemorative stamps for the Guangzhou Asian Games has also been unveiled.
Fans snapped up the opportunity to buy the memorabilia, which includes postcards bearing their personal photo.
Miss Liu, Souvenir Buyer, said, "I've bought mascots and badges. I'll keep them as souvenirs or give them to friends as presents."
Temporary postal offices will be set up at every stadiums during the games to ensure athletes and spectators can keep in touch with family and friends.
Related stories