Watch Video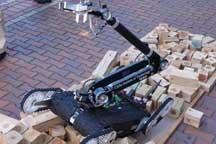 Play Video
A Japanese technology developer has unveiled a futuristic rescue robot that can deliver cell phones and water to people trapped out of human reach, while sending back 3D maps of the terrain to emergency workers.
Quince can crawl through rubble, sniff out survivors, map terrain, and even carry items to people trapped in tight spots.
This rescue robot is bundle of high-tech fire-resistant and water-proof machinery.
It features video cameras, smoke detectors, and thermo-graphic sensors can move as fast as 1.6 meters per second and has a smell detector that recognizes human urine.
Controlled through a game console with a range of 700 meters, Quince can crawl under wreckage to deliver necessities like cell phones or bottled water to those who can't be reached by emergency workers.
Developers of the rescue robot believe it's a bringer of hope.
Eiji Koyanagi, Robotics Scientist, Chiba Institute of Technology, said, "This robot can bring victims water bottles, food, and cell phones, which enable the isolated to receive encouragement from their families, and hold out longer until rescuers come."
Quince is also pretty sturdy, passing a rigorous battery of drop tests. It can crawl on any coarse surface, or climb up 82-degree slopes without losing balance.
The robot can also map out disaster zones in three dimensions, and sends the images back to rescue workers via WI-FI technology.
Developers plan to test Quince at real disaster sites, in cooperation with the Chiba Fire Department, in the very near future.
Editor:Zhang Pengfei |Source: CNTV.CN