Watch Video
Play Video
As suffocating smog from wildfires around Moscow continues to hang over Russia's capital. Weather experts say the south-eastern winds that blew in from the worst-affected areas are not likely to change direction over the next few days. Foreign aid is on the way, and donations have already begun pouring in.
Even underground, people taking Moscow's subway cannot avoid the thick smog.
Russian health officials say the concentration of airborne pollutants such as carbon monoxide is more than six times normal levels -- the worst readings ever seen in the country's capital.
Ecologists are advising citizens not to go outside at all.
Yelena Lezina, specialist of Moscow Ecological Monitoring Service, said, "Due to the current pollution level, we strongly recommend that people not go out in the street. You need to take all possible measures to lower the input of contaminants into your organisms. You should not go out to the street. If you go out, make sure you use multi-layered gauze face masks. You should not ventilate your premises, and take all the measures not to let smoke penetrate into the apartment."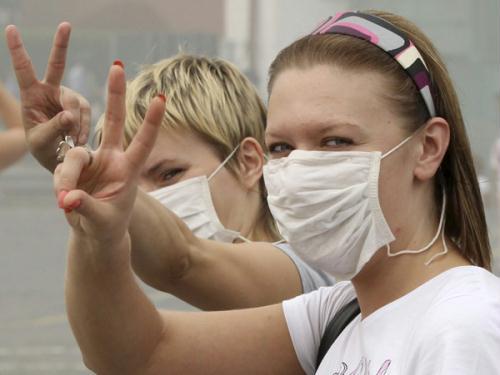 Women, wearing masks to protect themselves from the smell of heavy smog caused by
peat fires in nearby forests, gesture as they walk along Red Square in central Moscow
August 7, 2010. Dense clouds of acrid smoke from peat and forest fires choked Russia's
capital on Friday, seeping into homes and offices, diverting planes and prompting
exhausted Muscovites to wear surgical masks to filter the foul air.
(Xinhua/Reuters Photo)