Watch Video
Play Video
The last US combat force in Iraq has handed a military base in western Baghdad over to Iraqi security forces. Saturday's move is a further sign of this month's withdrawal of all the country's battle troops, as promised by President Barack Obama.
Time to say goodbye.
It's a departure ceremony for the last US battle brigade in Iraq. The Americans have decided to end their combat mission there by the end of this month.
General Ray Odierno, Top US commander in Iraq, said, "Today is an extremely important day as we progress towards turning over full responsibility for security to the Iraqi security forces."
During the ceremony, a division of the Iraqi army demonstrated vehicle checks and other security measures often employed in the war-battered country.
Abdul Qadr Al-Ubaidi, Iraqi Defense Minister, said, "Today, we conducted an important phase of the work for the month of August, in order to reach August 31st, and accomplish the withdrawal of US combat forces and support forces by the end of 2011, in accordance with the security pact."
While this is the last combat brigade to hand over control to Iraqi forces, six other units will remain in the country.
The half-dozen Advice and Assist Brigades, which come into effect on September 1st when the US formally moves into an advisory role, will train and support Iraq's army and police.
Seven years after the invasion to topple Saddam Hussein, Washington is reducing the number of troops in Iraq to 50-thousand by the end of this month. That number is just one third of the figure present during the height of the conflict. The current level is 65-thousand.
But Iraq's fractious Parliamentary parties have been unable to form a coalition government five months after holding elections. This has created a power vacuum, potential vulnerability to sectarian tensions, and left many Iraqis concerned about the ability of local forces to maintain security.
Figures released last week show the number of civilians killed in bomb attacks almost doubled in July.
American forces have been patrolling in a support role with their Iraqi counterparts for months. US commanders say the force remaining at the end of this month will be big enough to counter any unexpected surges in violence.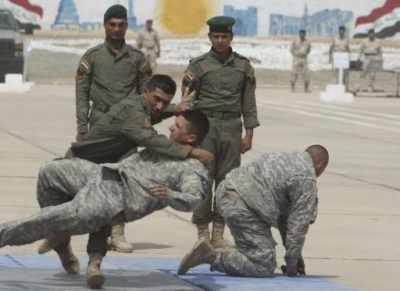 An Iraqi soldier performs martial arts to mock arrest a US soldier
during a ceremony to mark the departure of US forces at the 6th Iraqi
Army Headquarters at Abu Ghriab in Baghdad today, August 7, 2010.
Reuters pic
Editor:Zhang Ning |Source: CNTV