Watch Video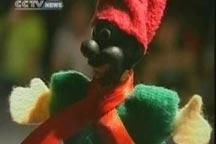 Play Video
An international puppet festival in Iran has brought together performers from around the globe. The event celebrates one of the country's oldest puppet characters, Mobarak.
This year's event was the 13th annual Tehran International Puppet Theatre Festival.
Troupes from various countries attended the event and staged their plays for children and adults alike.
Meysan Yousefi, Puppet Show Director, said, "Our show and the character of Mobarak have become international. This kind of show has many performance appeals. Many kinds of messages can be relayed to the audience through this show."
Mobarak is one of Iran's oldest puppet characters. He used to amuse people when other entertainment media were scarce.
The character is based upon a slave who was the king's harlequin in ancient Iran.
Mobarak is quick-witted and never shies away from making fun of the king's mistakes.
His character appears in many forms, including a hand puppet, a rod puppet and a glove puppet.
Puppet designer Tina Abeshzadeh said, "We have many Iranian traditional puppets that are more than 100 years old. However, the Mobarak puppet was selected because it is the most famous Iranian puppet. Foreign puppet-makers are also familiar with this puppet."
Tehran's puppet festival is a non-competitive event, but there was a contest for budding playwrights.
"The Last Resort" by British director Ashley Dean and "The Insects Concert" by Iran's Maryam Saadat were both honored as the best entries at the festival.
Editor:Zhang Ning |Source: CNTV