Watch Video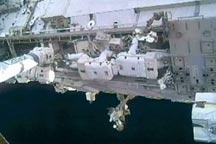 Play Video
Two astronauts have embarked on a crucial space walk to repair a cooling system at the International Space Station.
The orbiting facility has two ammonia-fed cooling loops that dissipate heat generated by equipment. One of the systems broke down after a power spike in a pump module, setting off a wave of equipment shutdowns to cut the heat generated onboard.
Douglas Wheelock and Tracy Caldwell Dyson began Saturday's first spacewalk with the goal of replacing the failed pump. A second mission, scheduled for Wednesday, will connect the ammonia fluid lines. NASA says the astronauts aboard the station are not in any danger.
Editor:Zhang Ning |Source: CNTV