Watch Video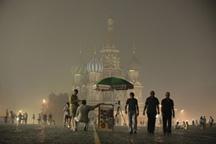 Play Video
Smog from wildfires raging in Russia continues to blanket Moscow. Many residents are wearing masks to protect themselves from dangerous pollutants.
The thick haze engulfed Moscow for a third day, as winds blew smoke from areas burning with forest fires. Meteorologists say the southeasterly winds are unlikely to change over the next few days.
The concentration of airborne pollutants such as carbon monoxide has further intensified and is more than six times normal levels. The smog has also seeped into buildings and the city's subway system.