Watch Video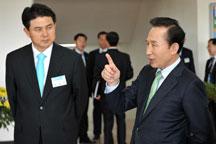 Play Video
South Korean President Lee Myung-bak has appointed a young reformist Prime Minister to push through his amended agenda. He has also reshuffled seven ministerial portfolios.
President Lee Myung-bak named Kim Tae-ho, the 47-year-old former governor of a rural province, as South Korea's new Prime Minister.
Hong Sang-Pyo, South Korean Presidential Spokesman, said, "The new Cabinet can be called a young group based on communication and integrity, as you see a Prime Minister-designate in his 40s. He worked his way up from peasant to governor."
Lee previously said he would place the utmost importance on ability, not age, when selecting new Cabinet members. He chose seven other appointees to take over as Ministers of Education, Culture, Knowledge Economy, Health and Welfare, Agriculture, Labor, and Special Affairs.
v"It is certain that the new Cabinet members will be vital, active, creative, and futuristic in their leadership, while also demonstrating good communication skills, and integrity between regions and generations, as well as at different social levels."
The president also promoted a senior Commerce Ministry technocrat to handle South Korea's industry and energy policies.
This is the biggest Cabinet reshuffle since Lee took office in early 2008.