Watch Video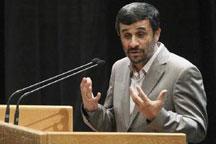 Play Video
Iranian President Mahmoud Ahmadinejad has hit back against new sanctions imposed on his country by the US government last week. He said on Sunday that it's actually a good opportunity for his country.
Iran has come under increasing pressure from a fourth round of UN sanctions for its refusal to suspend uranium enrichment and resume negotiations on its nuclear program -- and even tougher measures imposed by the United States, the European Union, and Canada targeting the country's foreign trade, banking, and energy sectors.
Ahmadinejad told a conference that Iran has survived for 31 years without any economic ties to the West, and the nation will take the opportunity to expand its domestic industry this time.
Mahmoud Ahmadinejad, Iranian President, said, " We will use the opportunity of sanctions to expand our domestic products, and globalize Iranian products ... And, now that America has opened its way and removed the obstacles to hit us, we will hit them back from the same path, in such a way that they will be discarded."
Ahmadinejad said his government has made other decisions in response to the sanctions, which cannot yet be released to the public.
While facing the pressure of sanctions, Iran insists its nuclear endeavors are designed to generate electricity, not build weapons.
Related stories
Editor:Zhang Pengfei |Source: CNTV.CN