Watch Video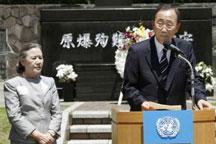 Play Video
The Japanese city of Nagasaki is holding a memorial to mark the 65th anniversary of the atomic bombing during World War Two.
Thousands of people gathered to pray for the deceased, and a world without nuclear weapons. Three days ago, Hiroshima held its own memorial.
The world's first atomic bombing took place there 65 years ago, on August 6th. The American B-29 bomber "Enola Gay" dropped the "Little Boy" on Hiroshima. The detonation killed about 100 thousand people in a blink. Another 40 thousand were killed or died within months.
Three days later, a second bomb was dropped on Nagasaki, killing about 80 thousand people. Six days later on August 15th, Japan surrendered. Over the years, many people have developed diseases considered related to exposure to the atomic fallout.
Related stories
Editor:Zhang Pengfei |Source: CNTV.CN