Watch Video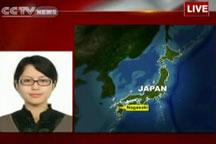 Play Video
For more on the 65th anniversary of the atomic bombing of Nagasaki, we're joined by our correspondent Gu Xuejia, who is in the Japanese city.
Q1. Can you tell us about the memorial ceremony in Nagasaki? And are there any other activities taking place there?
Q2. 65 years on, how do people look back at the bombing? Have attitudes to the event changed at all over the years?
Nagasaki marks WW2 atomic bombing
The Japanese city of Nagasaki is holding a memorial to mark the 65th anniversary of the atomic bombing during World War Two...<Full story>
Editor:Zhang Pengfei |Source: CNTV.CN