Watch Video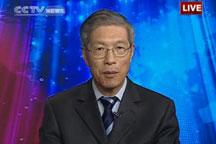 Play Video
For more on the 65th anniversary the dropping of the atomic bomb on the Japanese city of Nagasaki, we are joined by current affair commentator Tao Wenzhao. Hello Mr. Tao,
Q1, It's been 65 years since the bomb was dropped, yet thousands of people take part in the memorial ceremony. Why does it remain significant?
Q2, August 15th is the 65th anniversary of Japanese Emperor Hirohito going on radio to announce the surrender. Is there any reflection or change of thinking about the country's actions in the Second World War among the Japanese?
Nagasaki marks WW2 atomic bombing
The Japanese city of Nagasaki is holding a memorial to mark the 65th anniversary of the atomic bombing during World War Two...<Full story>
Editor:Zhang Pengfei |Source: CNTV.CN