Watch Video
Play Video
The mortality rate is rising in Russia's capital, as record-breaking heat and toxic smoke smothers the city. But there is encouraging news as 20 thousand hectares of land is no longer burning.
The wildfire situation in Russia is improving. Forecast claim the smog enclosing Moscow is expected to disperse in two or three days.
But residents are still facing severe challenges to their health.
Andrei Seltsobsky, head of moscow Health Department, said, "The average death rate in the city normally is around 370 people a day. Today, we have about 700. This is no secret. Everyone thinks we're trying to keep it secret. Look, it is 40 degrees on the street."
The abnormally high temperature and smog, caused by peat bog fires are to blame for the increase in the mortality rate. The smog pushed pollution levels to new highs, threatening people's health.
Moscow ambulances are practically working in war-time conditions. However, they are not equipped with air conditioning to help off-set the heat. The temperatures inside the vehicle sometimes reaches 50 degree Celsius.
Experts say even healthy people may feel sick in these conditions.
Gennady Vasilyev is only one of those forced to flee Moscow because of health concerns.
Local resident Gennady Vasilyeu said, "I took some underwear, clothes of mine, of my wife and my children, a TV set and some other belongings, but left all the big stuff there."
On Monday, 20,000 hectares of land was no longer burning. But, Russia's Emergencies Ministry says despite there being less land on fire, about 170 thousand hectares is still engulfed in flames.
The Ministry believes there is no reason to declare a state of emergency in Moscow. Favorable weather such as rain and a dip in temperatures may occur Thursday or Friday.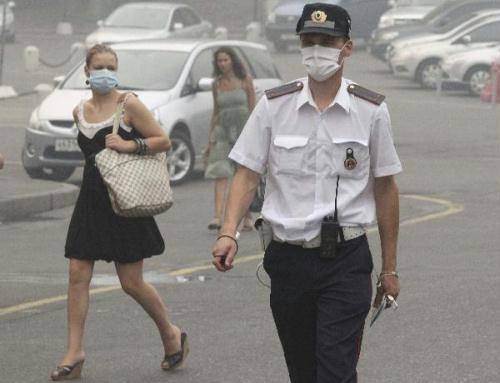 The toxic smog smothering Moscow shows little sign of abating on Aprial 9, 2010.
(Xinhua/Reuters Photo)
Editor:Zhang Ning |Source: CNTV