Watch Video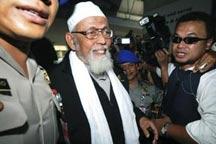 Play Video
Indonesian anti-terror police have arrested Muslim cleric, Abu Bakar Bashir, and several other militants. Police says Bashir's network was responsible for planning to attack the country's president. Bombs were found during anti-terror raids.
Abu Bakar Bashir, who has been arrested twice before and spent several years in jail, arrived at Indonesia's national police headquarters under tight security.
The 72-year-old has been jailed before for conspiring to the Bali bombings in 2002, which killed over 200 holiday makers, most of them foreign tourists.
The cleric is known as the spiritual leader of Jemaah Islamiah, which has links with Al-Qaeda, and was a founder of the al- Mukmin boarding school. Many of the graduates of the school were involved in major suicide bombings in the country.
Gereral Edward Aritonang said, "Based on the investigations which have been conducted, Abu Bakar Bashir was arrested for his involvement and active role in preparing the original plan, in a military training for terrorist groups in Aceh."
Bashir has long denied links to terrorism. The police spokesman also said that Monday's arrest was the first time Bashir was directly linked to planning militant attacks instead of merely inspiring them.
More than 60 suspects have been arrested and several large caches of assault weapons, ammunition and explosives have been seized.
Editor:Zhang Ning |Source: CNTV