Watch Video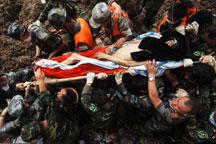 Play Video
Rescuers are battling through sludge and rubble in an around-the-clock operation to find survivors. A 52-year-old ethnic Tibetan has been pulled alive from the debris of an apartment building 58 hours after the massive landslide hit Zhouqu county.
Rescuers found indications at midday on Monday that survivors might still be buried in the debris. They continued searching non stop over the next 24 hours.
They were digging from the second floor of the building when they heard a cry for help under the debris.
After more frantic digging, they located the survivor five meters below their location.
But he was trapped by rubble and debris.
"He is enclosed by the bricks. He is moaning, but we can pull him out soon." Rescuer said.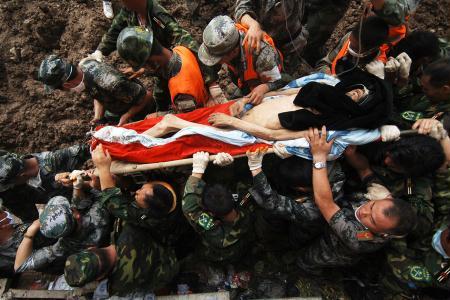 Liuma Shengdai is transported by rescuers in mudslide-hit Zhouqu County,
Gannan Tibetan Autonomous Prefecture in northwest China's Gansu Province,
Aug. 10, 2010. Liuma Shengdai, 52, was rescued after being trapped for 60
hours following landslide. (Xinhua/Zhang Hongxiang)
The rescuers tried to remove the stones out from the tunnel by rope, while offering encouraging words.
"It's a man. He is well in body and mind, and is talking with the rescuers." Rescuer said.
It took 40-minutes to reach the man.
Liu Ma Shindan, was swept by landslides into a gap in the building on Sunday morning.
The man was immediately rushed to a makeshift first aid clinic.