Watch Video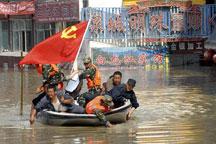 Play Video
Rescuers say Tuesday marks the end of a 72-hour window where crews are likely to still find survivors alive.
But, they're not giving up hope. New rescue teams have arrived from Beijing. 80 rescuers from the National Earthquake Disaster Emergency Rescue team have been searching areas where there have been reports of signs of life. They began at the local public security bureau which is now a pile of rubble and debris. Sniffer dogs and specialist equipment are also being used in the search. Rescuers say they are not giving up hope.
Rescuer Huo Shufeng said, "We got reports that there were signs of life near the public security bureau. We searched the office building with equipment and sniffer dogs, but there was no signs. We will continue to search nearby areas."
Another rescuer said, "More than 900 residents were living here. We have collected 43 bodies, others are believed to be missing. This should be the worst hit area in the county."
Editor:Zheng Limin |Source: CNTV