Watch Video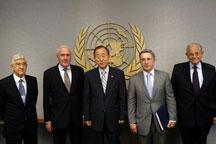 Play Video
UN Secretary-General Ban Ki-moon held his first meeting with a panel that will investigate Israel's deadly May 31st commando raid on an aid bound for Gaza.
The committee is expected to spend the next few days determining how the investigation should proceed. The first progress report is expected September 15th.
Monday, Israel threatened to pull out of the inquiry, after the UN chief said there is no agreement that would refrain the panel from calling Israeli soldiers to testify.
Israeli officials say the agreement to take part is conditional on the panel relying on reports from Israel's own military inquiry, not testimony from soldiers.
It was only last week Israel agreed to participate in the probe into the May 31st raid, which killed nine pro-Palestinian activists on a Turkish vessel aiming to break Israel's sea blockade of Gaza.
Editor:Zhang Pengfei |Source: CNTV.CN