Watch Video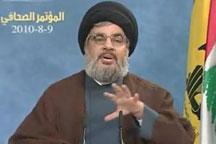 Play Video
It has been five years since former Lebanese Prime Minister Rafik al-Hariri was killed. In that time the person or people responsible have not been found.
Lebanon's Hezbollah leader Hassan Nasrallah presented what he claims is evidence of Israeli involvement in the 2005 assassination. But Israel immediately denied the allegation.
Lebanese politicians were divided over the evidence presented by Nasrallah, and the allegation that Israel is behind Hariri's assassination. Some say the information from the evidence must be taken into consideration, whereas some feel it's unconvincing to the public.
Hassan Nasrallah, Hezbollah leader, said, "We should have new thought and ideas over Hariri's assassination. Because in the past 5 years, no one, including the International Criminal Court or other international organizations, or even people and groups in Lebanon, has ever accused the most likely suspect -- Israel."
Nasrallah showed clips of what he says are Israeli aerial reconnaissance footage of routes in Beirut that Hariri's motorcade used weeks before the killing.
Hezbollah says it was able to decode the Israeli surveillance and access the material captured by reconnaissance planes. Some footage shows aerial shots of Beirut, including the Saint George area where Hariri's motorcade was bombed.
Hassan Nasrallah, Hezbollah leader, said, "We considered these pictures and video surveillance at different times and different places and at different angles - they cannot be mere coincidence. When presented to experts they will confirm that those who were doing the surveillance were preparing for an operation."
Israel immediately dismissed Hezbollah's accusations.
Nasrallah also alleges a man suspected of being a spy for Israel and involved in the killing of Hezbollah members, was present in the Saint George area the night before Hariri's assassination. He says Israel should now be investigated over the Hariri killing.
Related stories
Editor:Zhang Pengfei |Source: CNTV.CN