Watch Video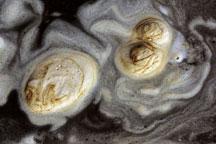 Play Video
Oil spill in the Gulf of Mexico has drawn international attention, but other minor spills are taking place on a daily basis with the world ignoring them.
In the Ecuadorian Amazon jungle, forty years of oil exploitation has caused severe damage to both humans and the environment.
Oil pipes are a part of life for children in the Amazon region of Ecuador, yet the tubes are a constant threat to their lives. Hundreds of small oil spills from pipes and oil wells have poisoned the streams from which people and animals drink.
Diocles Zambrano, Head of NGO "Angel Shigre", said, "Since the oil industry started operations here, we, the people who live near the oil wells and pumps, have been enduring the collateral damage resulting from many oil spills and other toxic chemicals that are simply dumped in the rivers and in the fields where people grow crops. So the land does not produce as before, and many people have died of cancer and leukemia. Many people are chronically ill here."
Small peasants live just a few meters away from the permanent danger of oil wells and high voltage electrical stations. Also surrounded by oil pipes whose temperature of 80 degrees Celsius is enough to boil an egg. Explosions can happen any time the pressure inside gets out of control.
Since the eighties up to 6 oil spills have been registered at this spot next to an important oil well. The last one happened in June 2009. Local Indian villagers, the real victims of the spills, end up employed by oil companies to clean the oil, using rudimentary tools.
Ecuador Jungle Resident, said, "They don't pay well and when they pay us is too late, but we don't have a choice."
Ecuador Jungle Resident, said, "Oil has a terrible smell and gets you sick. A colleague of us was taken to hospital as she was contaminated."
To put remedy, Ecuador offers an unique deal: oil will not be drilled in a key area of the Yasuní Park, in exchange of funds to promote nature preservation.
Ivonne Baki, Head of Yasuni Negotiating Team, said, "The public opinion in the world now is more than ever realizing the importance of preservation. The devastation of what happened in the biodiversity of those places is immense, so you never know how long it will take to recover."
Local Waorani and Shoar tribes lived untouched until the oil companies entered their territories only 20 years ago. Their native lands have also been polluted amid the indifference of the Ecuadorian government, but now the Yasuní initiative aims at improving living conditions of the original inhabitants of the rain forest.
Gabriel Jaramillo, Yashuni Program Coordinator, said, "Once you talk to them and you realize they are suffering from the effects of oil exploitation. They see that their water sources are contaminated you realize that once they have another option of a more sustainable way of developing and living, they go for that."
Grazia Rossi, Ecuador, said, Spills big or small show the limits of the oil industry. Ecuador is seeking a green future with an unusual deal: unexploited oil for money to develop clean energies. Grazia Rossi, CCTV, from the Amazon jungle in Ecuador.
Related stories
Editor:Zhang Pengfei |Source: CNTV.CN