Watch Video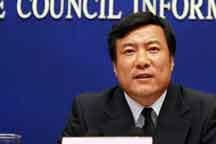 Play Video
The State Council Information office held a press conference a short time ago with an update on the latest rescue and relief efforts in northwest China's Gansu province. Officials with the Ministries of Health, Water Resources, Civil Affairs and Land and Resources all attended.
The massive landslide that hit Zhouqu county in northwest China's Gansu province on Saturday night has caused tremendous loss.
47-thousand people have been affected by the disaster.
702 people have been killed. 1042 others are still missing.
So far, 1243 people have been rescued from the landslide debris and 20-thousand others relocated.
The Civil Affairs Ministry's contingency plans are currently in place.
Zhang Weixing, China's Ministry of Civil Affairs, said, "The Civil Affairs Ministry organized the allocation of relief materials immediately after the disaster. The first batch of materials arrived in Zhouqu on Monday. So far, we have allocated 30-thousand tents, 100-thousand cotton-padded quilts and 5-thousand sleeping bags to the disaster zone."
Zhang Weixing also said the local government has set up three delivery stations in Zhouqu and assigned four nearby towns as transfer centers for supplies. Relocating victims is the next priority.
Officials with the Land and Resources Ministry say after the mudslide hit Zhouqu county, a team led by the Minister rushed to the disaster area. Experts are cooperating with local geological staff to deal with possible secondary disasters.
Cuan Fengjun, Land & Resources Ministry, said, "240 technicians have been dispatched to the affected area. They are investigating the geological situation there, providing measures to prevent secondary disasters. They are expected to complete their investigation before Thursday."
Officials from the Health Ministry say so far there have been no reports of an epidemic outbreak or public health incident in Zhouqu County.
Emergency medical rescue work is coming to an end. Epidemic prevention is now the next priority for health authorities.
Full Video:
Rescue and relief efforts in Zhouqu County
Related stories
Editor:Zheng Limin |Source: CNTV