Watch Video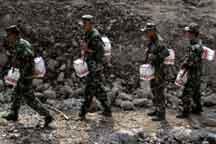 Play Video
Rescue teams from across China have converged on Zhouqu county to help in any way they can. The workers we're about to introduce to you are helping victims trying to move on with their lives. The teams are offering first aid, relief supplies and an education.
Luojiayu village is one of the worst-hit areas in Zhouqu county. It's where more than 30 villagers, including the elderly and children, gathered to hear a lecture from a rescue team.
Soldiers and officers from Sichuan province are teaching the villagers how to know if a mudslide is coming, and what to do to save themselves.
Wei Zheng, Rescue Team Member, said, "When a mudslide occurs, the earth and rocks are loose. A slight tremor or a little rain could cause a collapse. Some houses are also dangerous. So, don't go under these buildings."
Mr. Wei also said people should be cautious when there's a loud sound in the valley, which is a sign of mudslide. And, when fleeing, don't go downstream, head up a hill.
A rescue team from Yunnan province is helping landslide victims by boiling medicinal herbs. They are also treating patients, and teaching them how to prevent diseases from spreading.
The teams from other provinces have brought a lot of medical facilities, including tents, and other relief supplies to help the victims.
Editor:Zheng Limin |Source: CNTV