Watch Video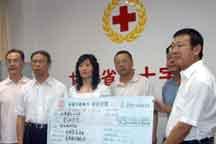 Play Video
Relief supplies and donations have flooded into Zhouqu County. And the Red Cross Society of China and its local branches are receiving even more donations from the public.
Residents in Shanghai queued up at the donation stations early Wednesday morning.
And for many of them, it's not their first time here. They came earlier this year to donate for the drought stricken areas and earthquake victims in the west of China.
Wang Qiuying, Shanghai Resident, said, "I've learned of the disaster on TV. It's so sad. So I'm offering a little help to the victims."
In Tangshan city of northern Hebei Province, primary school students are giving up their pocket money for their peers affected by the mudslide.
The city was hit by a devastating earthquake 34 years ago. So the people here share great sympathy with those who suffered from the disasters.
Wu Muzi, Student from Tangshan, Hebei, said, "I want to help the children in the disaster-hit area with all my pocket money. I want their lives to be restored soon and live as happy as us."
As the supporting partner for Gansu province, Tianjin municipality wired 500-thousand yuan through its Red Cross Society branch to Zhouqu County immediately after the disaster.
Along with the money, other much-needed supplies have arrived in the county such as tents, instant food, drinking water, and generators.
Anticipating the cooler weather and epidemic control needs after the floods retreat, quilts, medicine, and other supplies are en route.
Editor:Zheng Limin |Source: CNTV