Watch Video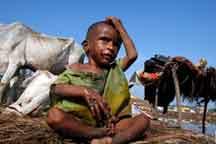 Play Video
Pakistan is continuing to evacuate towns and villages as the worst floods in the country's history spread to other areas. The floods first struck the north region and are now gushing south.
16-hundred people have been killed in the disaster and 12-million others affected. The United Nations International Children's Emergency Fund says they are trying to educate people not to drink contaminated water to prevent a waterborne disease outbreak.
Mihua, Water Quality Advisor of UNICEF, said, "I think the donation from China came at a very important time. We were able to distribute fresh drinking water, food, medicine and shelter to affected locals, which was urgently needed. Due to the hot weather, water is very important. So, we have set-up water purifiers at sites where those left homeless are staying.
Editor:Zheng Limin |Source: CNTV