Watch Video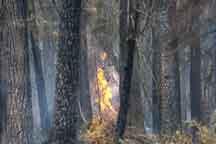 Play Video
The toxic smog that's blanketed Moscow over the past week is slowly starting to clear, but the concentration of pollutants in the air remain high.
While there are no final statistics on fatalities caused by the sweltering heatwave and wildfires' smog, the overall picture is grim. Local doctors say there has been a significant increase in the number of patients presenting with strokes, asthma attacks and heart attacks. Moscow airport is getting back to normal after the smog slightly lifted improving visibility. The weather bureau says the hot weather will continue for at least the next 10 days.
China's Ministry of Commerce has announced that China will donate 1 million U.S. dollars and deliver humanitarian aid goods worth nearly 3 million U.S.dollars to help Russia.
Editor:Zheng Limin |Source: CNTV