Watch Video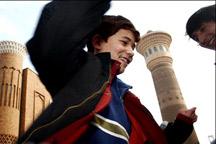 Play Video
Muslim observers in northwest China's Xinjiang Uygur Autonomous Region are marking the occasion in traditional fashion.
Muslims in Xinjiang are engaging in worship at mosques throughout the region. After eating breakfast very early in the morning, the faithful begin to fast, and will not have any meals for the next 15 hours. This continues for 30 days. And for most Muslims, the Ramadan fast teaches endurance and perseverance through overcoming hunger.
Not everyone observes the practice during the month, however. This is due to work, health problems, or other reasons. And they have the option to choose how they spend Ramadan.
Kaheman Aini, Official, Ethinc & Religious Affairs Bureau, said, "Some Muslims fast during Ramadan, and some don't. Some people are busy working, or in poor health, so it's their right to choose whether to fast during Ramadan or not."
At the beginning of Ramadan, some Muslim restaurants and stores are closed during the daytime, as most of their customers are fasting. Many then resume business at 9 PM in the evening, after the daily fast has ended.
Related stories
Editor:Zhang Jingya |Source: CNTV.cn