Watch Video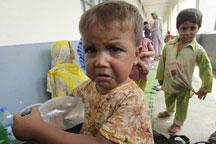 Play Video
The UN is declaring the Pakistan floods the worst natural calamity of this century.
Waters continue to rise, leaving millions homeless, it's women and children who are suffering the most. Our correspondent Danial Khan takes a look at the problems faced by the most vulnerable members of society.
Urgent need to scale up the response continues to rise in the two major provinces of Pakistan, namely Punjab and Sindh.
Over three hundred thousand houses are damaged or destroyed.
Hundreds of thousands of people have been shifted to safer grounds, but their needs are growing every day.
A large percentage of the affected are women and children.
Ghazala Minallah, Women's Activist, said, "The lack of privacy, the lack of basic facilities, the lack of being able to fulfill their own personal hygiene needs, there are many issues of women, and the psychological trauma because they have lost the male members of their families."
Many women have been left homeless. Their husbands have been killed while saving their family's lives.
Shazia Bibi, a ninety-three year old woman survived, but the floods changed her whole life.
Shazia Bibi, Flood Victim, said, "My son and my grandson have been washed away by the flood. He was the sole bread winner of the family and my only support. How will we survive? The water has washed away my whole life."
There are thousands of sad tales similar to Shazia Bibi's. Women have been widowed and children have lost their fathers and brothers.
They lie in the mercy of help, which is not reaching them due to further deteriorating weather conditions.
"The rescue work continues to provide shelter, Food, water and health facilities to the flood affected people, but analysts believe that still more needs to be done to bring the flood victims, especially women and children out of the mental trauma and to rebuild their lives from scratch. Danial Khan, CCTV, Islamabad."
Related stories
Editor:Zhang Pengfei |Source: CNTV.CN