Watch Video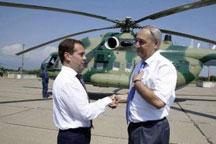 Play Video
Russia has moved a sophisticated S-300 anti-aircraft missile system into Georgia's breakaway region of Abkhazia. The deployment has drawn an immediate protest from the Georgian government.
The commander of Russia's air force, General Alexander Zelin, says the S-300 anti-aircraft missile system is intended to protect Abkhazia's air space and provide for the security of the republic. He says a different air defense system has already been deployed in South Ossetia.
Zelin does not specify the type of S-300's deployed in Abkhazia. The advanced version is capable of shooting down aircraft, cruise missiles and ballistic missile warheads at ranges of more than 150 kilometers.
The Russian move followed a recent visit to Abkhazia by Russian President Dmitry Medvedev... on the anniversary of the August 2008 war between Russia and Georgia. He pledged to provide further support to the two breakaway Georgian regions.
The Russian deployment of S-300's drew an immediate protest from Georgia, which says the missile system violated the cease-fire agreement that ended the war between the two countries.
Abkhazia and South Ossetia are Georgian breakaway territories. Both consider themselves independent states.
In August 2008, Georgian forces entered South Ossetia, and a war broke out between Georgia and Russia.
A few days later, the parties reached a ceasefire agreement. August 26th that same year, Russia signed a decree officially recognizing Abkhazia and South Ossetia as independent states.
Related stories
Editor:Zhang Pengfei |Source: CNTV.CN