Watch Video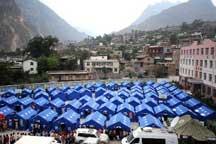 Play Video
People living in temporary camps have been unaffected by the overnight downpour which hit north China's mudslide-ravaged town of Zhouqu. It triggered new floods and mudflows along the Bailong River.
This is one of the relocation camps in Zhouqu county. Whilst it's pouring with rain outside, inside the tents it's dry, the ground and quilts are all clean.
However, some people still feel scared, as this is the first rainfall since the massive landslide.
A local resident said, "I felt scared when it started to rain. Very scared, just like that day the mudslide occurred."
The tents are all being built on higher ground.
Mobile beds have also been sent to the camp but there are not enough to go around so some people still have to sleep on the ground.
More than three thousand people had been moved to the camps by Wednesday night.
Meanwhile, local authorities have also stepped up their efforts to help residents get back into a normal routine.
They have dispatched food and daily necessities and everyone is receiving a 150 yuan daily subsidy.
People are also being encouraged to move to different camps with the promise that reconstruction of the county will be completed before the end of June next year.
Editor:Zhang Ning |Source: CNTV