Watch Video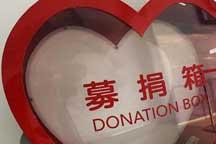 Play Video
Relief supplies and donations have flooded into Zhouqu County. Local governments, enterprises and people across China have extended their helping hands towards victims in the landslide-hit county.
Residents in Jiangsu Province are queuing up at donation stations. The local branch of the China Charity Federation has sent 500-thousand yuan to Gansu province to buy relief supplies.
In Binzhou City in eastern Shandong Province, a canvas manufacturing factory is devoting its production to relief supplies.
Zhang Hongliang, manager of Canvas factory,said, "After we heard about the landslide hitting Zhouqu County, we got all of our employees to produce as many as tents as possible in the shortest time."
Zhang Qin, employee, Canvas factory, said, "Normally I produce 200 meters of canvas a day. Now I am working overtime to help the landslide victims. I can produce 260 meters. I'm glad I can help."
In Maanshan city in Anhui Province, local enterprises and citizens have also extended their helping hands.
Zhang Baowei, mamager of Local Business,said, "The best way for us to help out is to donate cash. We hope Zhouqu people can rebuild their homeland."
Along with the money donated from all walks of life, other much-needed supplies have arrived in the county, such as tents, sleeping bags, instant food, drinking water and generators.
Editor:Zhang Ning |Source: CNTV