Watch Video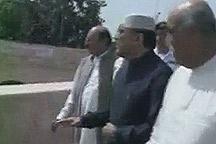 Play Video
The United Nations has estimated that Pakistan's floods have affected up to a quarter of the country. It warned that the disaster was far from over, saying dams in Sindh Province could still burst in the coming days.
Pakistan's predominantly Muslim flood survivors, already short on food and water, began the fasting month of Ramadan on Thursday. The religious festival this year has been marked by misery and fears of an uncertain future.
Thousands of Pakistan's soldiers are spearheading flood relief efforts and are also expected to help rebuild bridges and roads once the floods recede. But before then, their focus remains solely on search and rescue missions.
Noman Bashir, Pakistan's Naval Chief, said, "Our first priority is still to save lives. This area is scattered and low-lying. The speed with which the floodwaters hit left no time for an immediate, organized response. So our first step, and our main focus remains search and rescue. For this we are using boats, hovercrafts and helicopters."
President Asif Ali Zardari visited victims of the disaster on Thursday. He toured one of the dams in the severely flooded area of Sindh province.
Meanwhile, Prime Minister Yousuf Raza Gilani flew to southwestern Baluchistan Province to inspect devastated areas. Gilani assured the international community that all donations would be accounted for.
He said, "No one should feel that the relief provided by donors might be misused. Of this I want to assure you. Whatever you give, we will give an account of every single rupee. We will put details on a web site so people can access all the information. It should be clear and transparent."
A US Navy ship with 19 helicopters and a thousand Marines reached Pakistan's southern coast on Thursday to boost relief efforts.
The helicopters will help rescue people and deliver food and other supplies.
Washington says the U.S. assistance to the flood-affected areas of Pakistan has totaled 76 million U.S. dollars.
Related stories
Editor:Zhang Jingya |Source: CNTV.cn