Watch Video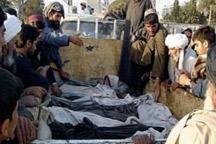 Play Video
Hundreds of villagers chanting anti-US slogans have protested in eastern Afghanistan over the killing of three villagers. Locals say US forces shot-dead the innocent men, but NATO insists they were suspected insurgents killed in self-defense.
Early Thursday morning, villagers started to gather in the main market of Sayed Abad to protest against the alleged civilian killings.
The men blocked the main highway going through the area and burned two trucks belonging to Afghan private security contractors.
A protester said, "They martyred three students and detained five others. All of them were civilians. Local people are devastated by this incident. Everyone says we do not want Americans in Afghanistan."
Thursday's raid happened before dawn in Wardak Province's Sayed Abad district, a Taliban-dominated area where Afghan police only patrol with tight security.
Witnesses say American troops stormed into a family's house and shot-dead three young brothers, before taking their father into custody.
NATO called the men "suspected insurgents" and a spokesman said they drew weapons and pointed them at coalition troops.
Police are investigating those allegations, but could not yet confirm anything.
According to a UN report, in the first six months of this year, 386 civilians were killed by NATO or Afghan government forces.
The UN also says insurgent groups were responsible for 76 percent of civilian deaths and injuries in the first half of 2010.
The Taliban has issued a statement decrying the UN report.
Related stories
Editor:Zhang Jingya |Source: CNTV.cn